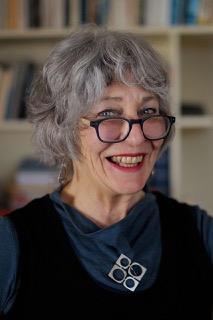 Gay Buckingham is a regional writer – her work is set firmly in southern New Zealand — and she revels in describing the coast, bush, wildlife and farming community of the area in which she grew up.
But within this specific world her fiction examines the universality of human experience by revealing the interior lives and relationships of her characters — and, by exploring their emotional and physical yearning and alienation, showing how some fail to communicate, how death and tragedy insinuate themselves into the most ordinary of lives and that pain can, with courage, be resolved.
She supersedes the old 'show, don't tell' injunction with what she describes as 'showing the unsaid, which is so much more telling than the said'.
Gay has nurse aided, waitressed, taught, been a relationship counsellor, worked in the family court, then completed a BA as an adult student. These initial occupations led to her long term professional life as a mediator and she sees story telling as a natural progression of mediation: "A mediator helps people tell their experience — their story — in ways that others can understand, and through understanding comes resolution," she says.
In 2013 Gay completed an MA at the International Institute of Modern Letters at Victoria University and she is currently working on a novel set in the Catlins area of Southland.
Along the way Gay has a raised a family, developed a love of native flora and fauna, sailed the southern ocean, tramped, travelled, developed properties, gardened, acted, and always, always, always, always, read.